About
Favel Parrett is a writer based in Victoria, Australia.
In 2011, Favel Parrett's career was launched with her critically acclaimed debut PAST THE SHALLOWS. A heart-breaking novel, it was sold internationally, shortlisted in the prestigious Miles Franklin Award and won the Dobbie Literary Award. Favel herself won the ABIA Newcomer of the Year Award in 2012.
Her next novel, WHEN THE NIGHT COMES, was also critically acclaimed and further consolidated Favel's reputation with booksellers and readers.
Favel's eagerly awaited third novel, THERE WAS STILL LOVE is now available.
Favel's short stories have been published in various journals including Island, Griffith Review and Frankie Magazine.
KIMMI
Available 1st November 2023
A tale of incredible courage and survival, this is the true story of Kimmi, Queen of the Dingoes, told with passion and heart by one of Australia's most beloved storytellers and dingo advocates. The perfect companion to Wandi, also by Favel Parrett.
On the night of a full moon, a small tropical dingo cub is born. And it is her destiny to travel far from home to change things for her kind.
Kimmi sleeps with her mama at her back, her aunty at her front and her three brothers squeezed in beside her. They are a family. But when the farmer who took her father returns to threaten the rest of them, Kimmi is separated from her mama.
In an incredible act of determination, Kimmi's mama runs over mountain tops and dusty red earth to spend one last day with her cub and share with her the knowledge that will one day make her a queen. This is Kimmi's story, the story of how she became Queen of the Dingoes in a sanctuary that saves them from extinction. It is her mama's story, too. But mostly it is a story that goes back thousands of years, and follows the long line of female dingoes they belong to.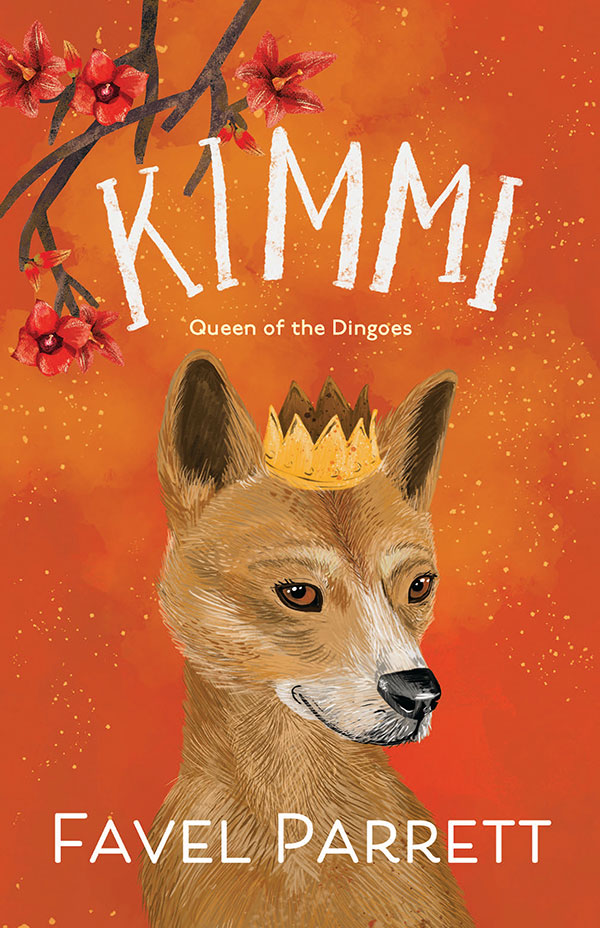 Shortlisted for the 2022 Indie Book Awards
A dingo cub is snatched from his family and home by a giant eagle, then dropped, injured and alone, in a suburban backyard. This is the beautifully woven story of Wandi, the most famous dingo in the world. Told with wonder and heart by one of Australia's most beloved storytellers. A classic in the tradition of Storm Boy and The Call of the Wild.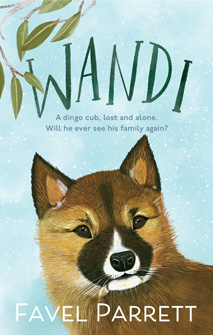 THERE WAS STILL LOVE
Available Now
2020 Indie Book Awards Book of the Year Winner.
Click here for details.
2020 Indie Book Awards Book of the Year Fiction Winner.
Click here for details.
Shortlisted for the 2020 ABIA Awards Best Literary Fiction.
Click here for details.
Joint Winner Adult Fiction Book of the Year – Australian Booksellers Association.
Click here for details.
A love letter to the strong women who bind families together, despite dislocation and distance.
PRAGUE, 1938: Eva flies down the street. A man steps out suddenly. She runs into him, hits the pavement hard. His hat is in the gutter. His anger slaps Eva, but his hate will change everything, as war forces so many lives into small brown suitcases.
PRAGUE, 1980: No one sees Ludek. A young boy can slip right under the heavy blanket that covers this city – the fear cannot touch him. Ludek is free. And he sees everything. The world can do what it likes. The world can go to hell for all he cares because Babi is waiting for him in the warm flat. She is his whole world.
MELBOURNE, 1980: Malá Liška's grandma holds her hand as they climb the stairs to their third-floor flat. Inside, the smell of warm pipe tobacco and homemade cakes. Here, Mána and Bill have made a life for themselves and their granddaughter. A life imbued with the spirit of Prague and the loved ones left behind.
THERE WAS STILL LOVE is an unforgettable story of memory, family and love. Because there is still love.
No matter what.
'A beautifully crafted book from a wonderful storyteller. It sings with humanity.'
SARAH WINMAN
'THERE WAS STILL LOVE' AUDIO BOOK NOW AVAILABLE


"Blue white ice that floats on a moving sea
It is the opposite of grey
It is the opposite of everything I had known"
Favel Parrett delivers an evocative and exquisitely told story about the moments that change us and the moments that save us.
Running away from the mainland was supposed to make their lives better. But, for Isla and her brother, their mother's sadness and the cold, damp grey of Hobart's stone streets seeps into everything.
Then, one morning, Isla sees a red ship. That colour lights her day. And when a sailor from the ship befriends her mother, he shares his stories with them all – of Antarctica, his home in Denmark and life onboard. Like the snow white petrels that survive in the harshest, coldest place, this lonely girl at the bottom of the world will learn that it is possible to go anywhere, be anything.
But she will also find out that it is just as easy to lose it all.
For Isla, those two long summers will change everything.
'WHEN THE NIGHT COMES' AUDIOBOOK NOW AVAILABLE
"When The Night Comes" is now available in audiobook format, narrated by acclaimed actors Marta Dusseldorp and Ben Winspear.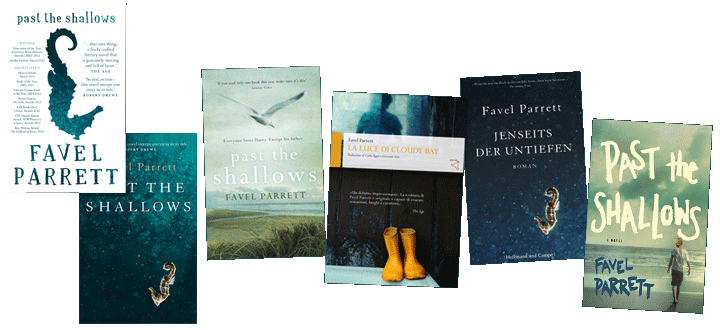 Past the Shallows is a hauntingly beautiful story of the bond of brotherhood and the fragility of youth. Told with an elegant simplicity, this is the story of two brothers growing up in a fractured family on the wild Tasmanian coast. The consequences of their parents' choices shape their lives and ultimately bring tragedy to them all.
Harry and Miles live with their father, an abalone fisherman, on the south-east coast of Tasmania. With their mum dead, they are left to look after themselves. When Miles isn't helping out on the boat they explore the coast and Miles and his older brother, Joe, love to surf. Harry is afraid of the water.
Everyday their dad battles the unpredictable ocean to make a living. He is a hard man, a bitter drinker who harbours a devastating secret that is destroying him. Unlike Joe, Harry and Miles are too young to leave home and so are forced to live under the dark cloud of their father's mood, trying to stay as invisible as possible whenever he is home. Harry, the youngest, is the most vulnerable and it seems he bears the brunt of his father's anger.
"If you read only one book this year, make sure it's this".
The Sunday Times
"This book is that rare thing, a finely crafted literary novel that is genuinely moving and full of heart".
The Age
'PAST THE SHALLOWS' AUDIOBOOK NOW AVAILABLE
Favel Parrett's award-winning debut novel, "Past the Shallows" is now available in audiobook format, narrated by acclaimed actor David Wenham.
'PAST THE SHALLOWS' TEACHERS NOTES
When the Night Comes
Winner
Antarctic Arts Fellowship
Shortlisted
Literary Fiction Book of the Year,
Australian Book Industry Awards (ABIA) 2015
Shortlisted
Fiction, The Indie Books Awards 2015
Shortlisted
ALS Gold Medal 2015
Shortlisted
ABA's Booksellers Choice Award 2015
Longlisted
Miles Franklin Award 2015
Past the Shallows
Winner
Newcomer of the Year,
Australian Book Industry Awards (ABIA) 2012
Winner
Dobbie Literary Award 2012
Shortlisted
Miles Franklin Award 2012
Shortlisted
Book of the Year,
Australian Book Industry Awards (ABIA) 2012
Shortlisted
Literary Book of the Year,
Australian Book Industry Awards (ABIA) 2012
Shortlisted
Debut Fiction, The Indie Awards 2012
Shortlisted
ABA's Bookseller's Choice Award 2012